Archive for July, 2007
An absolute rule for your database insert scripts and stored procedures should be to qualify all field names.
An example could be the following schema:

Where you would have a script saying:
INSERT 

INTO

 FAMILY 

VALUES

 (

'Bob'

,

'Dolly'

,

'Bill'

)


Then, you could see the disaster inserting a new field named Girlfriend in between You and your Mom (in more than one way

).
Then you have a schema like this:

Suddenly after your next insert your Girlfriend is your Mom, and your Dad is your Mom!
Well, the one solution to rectify this mess is of course guiding your values into the correct fields like this:
INSERT 

INTO

 FAMILY (You,Girlfriend,Mom,Dad)  



VALUES

 (

'Bob'

,

'Julia'

,

'Dolly'

,

'Bill'

)


The rationale is then as follows:
This will assure that if you have changed the schema ie. moved or inserted new fields, the script will not fail or most importantly it will not insert data in the wrong fields.
It will fail if you have removed or replaced fields which assures that you will not get corrupted data from these changes either.
To get this blog up and running I finally took the step of ordering a web hotel. I have long planned to host it myself, but I can't seem to find the time to assemble the machinery, nor do I find the machinery (in my basement) suitable for the task at hand.
The history so far…
So, last week (Wednesday June 27th) I was browsing the web to find a proper host. I originally wanted a windows host, so I could make my pages in ASP.NET as this is my natural habitat. I had also been looking at some blog-applications for ASP.NET, like Subtext, but it seemed to require a SQL database for storage. And you're not going to get SQL hosting for free.
The simple solution had to prevail. My one requirement was really that it could host this blog, my technical preferences set aside. Maybe a good chance to brush up my PHP skills, or possibly take a look at Ruby (on Rails)?
OK, so lets get back to the headline. I found a host, www.one.com, which was cheap and seemed to have what I needed. I ordered the smallest solution, got the receipt and I thought I was on my merry way to blogging-land in no time, no time at all….
The steps to change my registrar (for later reference)
int

possibleTripwireCount;
The first thing I had to do was getting the authorization code from my current registrar. As of October 29, 2006, you have to get this for all .COM and .NET domains from your current registrar.
So I log in to my current registrar, navigate my way through to a link called "Get Authorization Code" and click once. Ouch. I can't do that. Or at least that's what I'm told, and it is rather cryptic as to why I'm not able to do so.
Scratching my head some, and reading the FAQ tells me that I can try to UNLOCK my domain (did I ever LOCK it?). So I unlock the domain and voila; the "Get Authorization Code" link works. I take the code and enter it into the new registrars system.
possibleTripwireCount++;
After a couple of hours I receive two (seemingly) identical emails from my new registrar telling me to confirm I want to transfer the domain. Looking like it's a mistake sending me two (still seemingly) identical emails I just reply to the first through a link in the email, confirming I want the transfer to continue. It gets rather late that first evening so I go to bed confident I'll be able to blog some the next day.
The next day I'm trying, waiting, and trying again to see if the domain has transferred, but it does not seem to have been updated. There's no indication or status on either registrars, so I turn to the online help at my new registrar.
He asks me if I have confirmed the email from the day before, and even if I had, he couldn't see the status. As I was leaving, I told him about the mistake with the identical emails. "That's not a mistake" he proclaims, "if you are listed as both Registered Name Holder and Administrative Contact, you will have to confirm both emails!"
possibleTripwireCount++;
So please make a bigger difference in the emails than just the link to confirm! A simple line saying which role the email was to, or how about telling me so in the topic!
And then I waited for the transfer to really go through (in my imagination anyway), because nothing happened. Ever. Until Sunday, three days after I confirmed the transfer. And what do you know, it's a INVERSE CONFIRM email from my current registrar. Yet another security instance!
The polite email from my current registrar provides med with a link if want to cancel the transfer. And if I don't, it will automatically be transferred in 72 hours…. read my lips: 72 HOURS. Hey, where's the transfer now link?
Well, at least I knew what I was waiting for this time around.
The happy ending
Well, you're reading my blog now, so the transfer must have gone through one of these days. It took exactly one week from I ordered the transfer until it actually got through.
On a positive note I should mention that I do appreciate that the security surrounding the domain transfer is thought of, but there's always the classic trade-off between a great user experience vs great security.
Below is a sequence diagram detailing what was going on and in what order. I'll remember to take a look at it the next time I'm transferring a domain!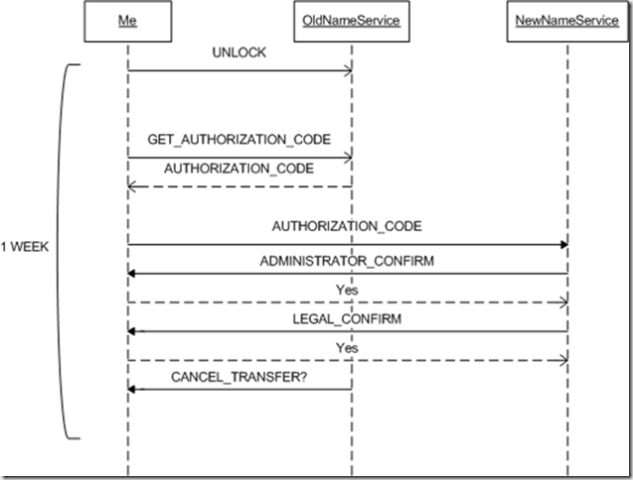 Hi, I'm your host Morten, and I'll be sharing my thoughts on development with you. There might be some other topics as well, allthough I'll try to keep them technology and/or internet related.